From Hardship to Hope is a series of stories about our program graduates told through their eyes. From childhood to now, we will learn about their journeys and try and understand the impact Uplift has had on their lives. This story is about Lashawna Bennett, a 2017 graduate from our first ever Workforce Solutions cohort. She has already received multiple promotions in the professional world and is now a Customer Service Manager at Fresh Grocer, and a member of the Board of Directors at Uplift. This is her journey: 
Lashawna grew up in Harlem, New York as an only child, and was raised by her grandparents. Her father died when she was young, and her mother was not cut out to be a parent. Despite this, she and her mother have always had a great relationship with one another. She loved her grandparents, as well as every part of childhood in Harlem. She said that it would always be her home not only because her family and friends are still there, but her heart is there too.  
Elementary and middle school were also great experiences for Lashawna. She stayed busy with a variety of after-school activities including dancing, gymnastics, karate, and most importantly, piano. Music became a huge part of her life and is still one of her passions today. One reason she connected so much to music was because she and her grandfather bonded through it and were able to play together quite often. He worked as an activities director at an assisted living facility and would schedule times for them to perform there together. Her grandfather was the most important person in her life, and he and her grandmother were incredible role models for her growing up.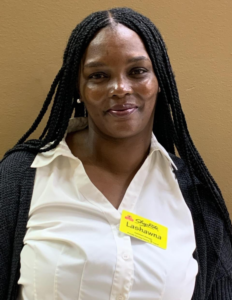 For high school Lashawna went to MLK, and this is when her life started going down a difficult path. High school was a vastly different environment than the schools she attended in Harlem, and it was her first time going to school more than walking distance from her home. Lashawna was exposed to things at MLK that she had never seen before, and among these things were drug dealers. She described the fancy cars they would come to school in, and all the illegal activities they were doing. These things intrigued her as she came from an incredibly structured household, and so began her life on the streets. This escalated from an interest, to playing hooky, to eventually dealing drugs herself. While she managed to keep this part of her life a secret from her grandparents for some time, she ended up telling them because she knew they would never judge her. When they found out, they took the news as well as possible. While they did not think it was right, and it was certainly not what they had planned for her, they did not make her feel like a bad person. They always lifted her up and that is why she loved and looked up to them so much. No matter what happened to her, including prison, they never put her down and always helped with her family as much as needed.  
In her junior year of high school Lashawna decided to drop out and move to Virginia for a change of scenery. At the age of nineteen she had her daughter with her longtime boyfriend and future husband. They met in high school when they were fourteen and ended up staying together for twenty years. Lashawna described their relationship as "abusive financially, emotionally, and physically," but she also notes that she would not change it for the world because it brought her to where she is today and gave her a beautiful daughter. Shortly after the birth of her child, Lashawna started her journey in and out of the prison system. 
The first time Lashawna was arrested was on an Amtrak train from Washington D.C. to Virginia. She was caught with 250 grams of crack cocaine and was sent to county prison. Luckily, her family was able to bail her out within a week and she was given probation. Even though she was only inside for a brief period, her first experience opened her eyes to what prison was like. There was a riot while she was there because one of the correctional officers smuggled a gun in for an inmate. Despite jail being a harsh environment, Lashawna adapted quickly, and was always emotionally prepared each time she was incarcerated. She noted that it always surprised her seeing people unprepared for prison because "they knew what the end result would be for what they were doing."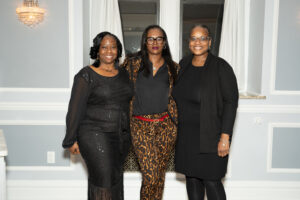 Lashawna's second stint was also in Virginia where she served 6 months for credit card fraud. While there, Lashawna was able to obtain her GED and take advantage of classes like Microsoft Excel and Word, using this time to benefit her as much as possible. However, also during this stint, her grandfather passed away. This was extremely hard for Lashawna, as "he was the closest person to me in the world." Losing him devastated her, and she was very lost without him for a long time. After she was released, she went back to New York to regroup, but that did not solve the emotional pain she was going through. She turned back to dealing drugs after this and ended up serving time on three more occasions: six months in 2008, two and a half years in 2010, and four years in 2013.  
This last stint in prison was different for Lashawna for many reasons, but the largest was family. Prior to her arrest in 2013, Lashawna was asked by her daughter if she knew how it felt when she was away. Even though Lashawna did not mind being incarcerated and knew it was the consequence of her actions, she never realized the emotional impact it had on her daughter until that moment. While she previously thought that all this crime was in her daughter's best interest because it provided for her financially, she did not think about what happened while she was away. When Lashawna caught her final case, her daughter, who was in nursing school at the time, had a mental breakdown. She knew it was time to turn things around at this point, and said she started to "feel it in her bones that she was better than this." She thought about her grandparents and how great they were as role models for her. How they gave her a great life and incredible foundation. She wanted to get back to what they taught her and what was expected of her, and so she did. She never understood the phrase "jail saved my life" until it happened to her. The good thing about being in prison for her was that it gave her time to reset, and she made a commitment to herself that she was never going to go back to her old life. 
Since her last arrest, Lashawna decided to discontinue her relationship with her ex-husband because she knew if she wanted to succeed, she had to let go of her past, including him. Her and her daughter are on great terms, and today they take care of each other. Lashawna called her daughter "her biggest supporter." Her family, past and present, gives her the most motivation to continue to succeed. Lashawna also said she "can't dwell on the person I used to be, and I'm always trying to get better." 
After graduating from Uplift's inaugural Workforce Solutions cohort, Lashawna started working at the Roxborough ShopRite, coincidentally the first Philadelphia based ShopRite. She received several promotions there, including customer service roles, and holding the position of evening manager. She is currently working at Fresh Grocer as the customer service manager and is a member of the Board of Directors at Uplift. Her next professional goal is to become the lead assistant at Fresh Grocer.