Record Clearing Event
The Uplift Solutions family on Saturday, October 7, from 11 a.m. to 2 p.m. for a record clearing clinic at Christlike Pleasant Green Faith Baptist Church in Philadelphia. In collaboration with Pennsylvania State Representative Roni Green (D, district 190), The Promise (powered by the United Way of Greater Philadelphia and Southern New Jersey) and Community Legal Services, this family-friendly event will help people take the first steps towards clearing their records that is 100% confidential. Nosh on food by Saudia Shuler's Country Cookin'. Cotton Candy, popcorn and activities will be on hand for the kids. The event will also feature information about Uplift's Workforce trainings and various community resources.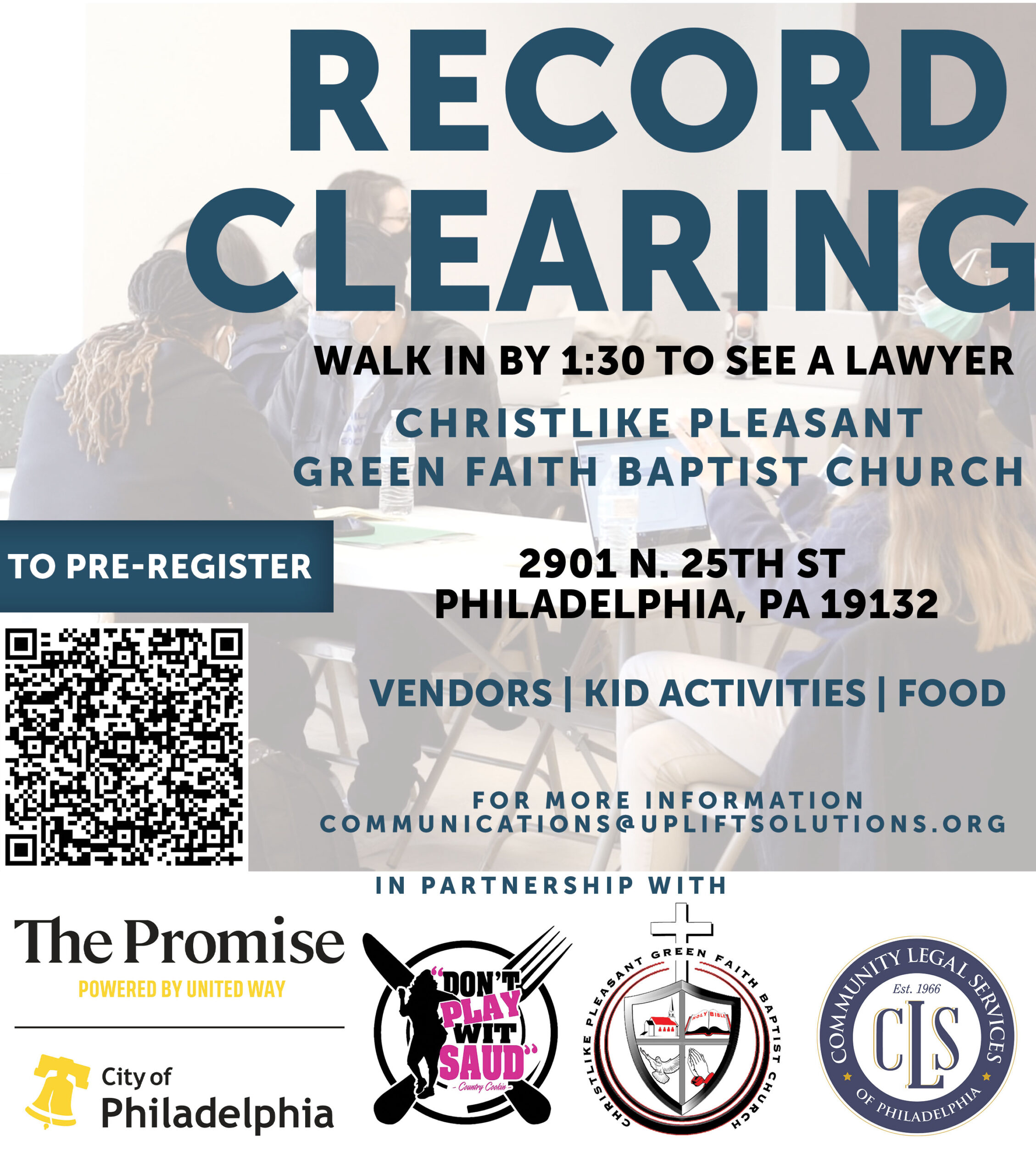 Transforming Justice Background
The Transforming Justice Conference was founded in 2019 by Atif Bostic, Cathy Nerney, and Lauren Barrow to create a space for raising issues of injustice, inequality, and inequity with local, regional, and national leaders; whereas they are actively engaged in the collectively problem solving necessary to address them.  Fostering a dialogue between leaders (elected and non-elected) and stakeholders (the community, practitioners, and the impacted) is a critical component of this platform.  We ensure the impacted are well represented and have a significant role and voice in the conference.  Lastly, we walk away with actionable next steps.
2022 Transforming Justice Conference
The 2022 Transforming Justice VIRTUAL Conference will focus on the powerful impact that a strong community can have on the justice framework. The conference features plenary sessions, panel discussions, and breakout sessions featuring local, regional, and national leaders in positions of influence. Also included are those impacted by injustice, inequity, and inequality. This year's speakers and panelists will include: Judithe Registre, Keir Bradford-Grey, and many more to be announced shortly. Make sure you register today!
The day will begin with opening remarks, a panel discussing community interventions, a keynote, breakout sessions, and a town hall. Breakout sessions will focus on Narrative Justice, Participatory Defense, and Coalition Building (breakout session signups will occur on the day of the event.) The conversations at this conference will have an incredible impact on the justice community, and we look forward to having you join to participant in these innovative discussions.
Virtual platform information and participation instructions will go out to registrants prior to the event. Please contact [email protected] with any questions.